Dr. Lawrence Allyn "Larry" Scadden passed away on August 29, 2023
Larry was the awardee of the 3rd ICCHP Roland Wagner Award 2006 for the many outstanding achievements for the inclusion of people with disabilities.
Lawrence Scadden Obituary with Memories and Condolences
With deep sympathy from ICCHP.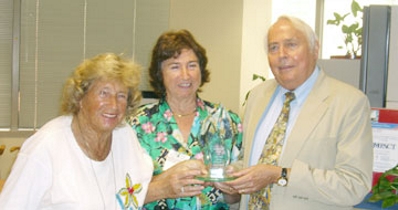 Call for Submissions ICCHP2024 is open!
Have a look at the Call for Contributions 2024:
Newsletter
Never miss any important information again!
Sign up for our ICCHP24 newsletter and stay tuned: https://icchp.org/subscribe.
Additionally, find all Newsletters after their publication also here! 
Key Dates
Get all important Key Dates here.
Guest Book ICCHP 2022
Here you can find some comments from our guestbook 2022:
"Very Pleased to be here @ Lecco for ICCHP-AAATE 2022. Together we can do better and support better for Accessibility and Digital Inclusion. Saying Namaste to all of you." (Dr. Krishna P. Paudel, Nepal)
"Wonderful Conference, organisation and place. Thank you!" (Ricardo Ron, Spain)
"A very inspiring, contact-intensive, content-intensive and pleasant week!"
"Kiitos! Thank you for very nice conference and time in Lecco" (Anne Kanto-Ronkanen, Finland)
"From Eqypt, with love. Good luck" (Ashoush Moustafa, Egypt)
"Greating from Lebanon"
"Thank you for having me here and letting me show our work! Gracias!" (Isam Diab, Spain)
"Enjoyed the conference and meeting people. Sessions were quite interactive. Lots of memories of Lecco & ICCHP/AAATE to take back home"
"Great conference with great people. It's nice to meet like-minded people again and the inclusion and AT family is powering. Thank you to all the organisers to make that happen." (Andreas Koth, Germany)
"This is my first presentive conference. And it was very interesting. Thanks to all the organisation and see you next time!" (Japan)
"This is tooooo big experience for me. Thank you for listening to my talking. See you next time" (Japan)
"I enjoyed ICCHP-AAATE 2022 very much and also enjoyed Lecco! I deeply appriciate organizers! See you in 2024." (Yoshinori Teshima, Japan)
"First time at ICCHP-AAATE 2022. Great, informative contents and networking. Thank you, "grazie" for organizing such a confreence. I made my calender for 2024!" (Francesca Cesa Bianchi, USA)
"It's a joy to meet again. So many colleagues and good friends after so long online. The conference location was beautiful, the organization was perfect, the secretariat was friendly, welcoming and efficient as always. Grazie, Thanks."
"Another amazing ICCHP/AAATE conference" Interesting discussions and great organization. Looking forward to the next one"
"I totally enjoyed every moment in ICCHP conference. Moreover, I enjoyed the activity with ASPOC students which was held by Prof. Covarrubias whom I respect a lot. Wish you the best." (Sana Mohammadi Pana, Italy)
"Outstanding experience as always, loved to hug, talk, kiss, chat and much more!! (One day I will learn English :-)). Grazie!!" (Silvia Pagliara, Italy)
"After many years of online meeting and work from home, finally we met again and the experience, as each time, was just breath-taking. An amazing week is ending and I will take so much with me. Thank you all - staff, participants, students and those who worked invisible behind the scenes. Love you all." (Chris)
"Thanks to all organizers for ICCHP-AAATE-2022!!! The conference in this place has been amazing! Love from a Coban that came from Ireland."
"Thank you all" This was a great experience." (Viaks Upadhyay, India)
"I am very honored to be part of such a great event. I met amazing personalities & loved their work. It was my first conference ever and I tried to be the first one in the morning to come & last to leave so that I can make as many memories as possible. I always wanted to be part of something like this. Guess I have found my place and will join you in this journey." (Prabhjot Singh Sway, Italy)
"Thank you for chosing our campus for this amazing event" It was a great pleasure for us! Grazie!!!" (Valentina Brunetti, Italy)
"Dreams become reality and hosting the ICCHP-AAATE 2022 conference in Lecco Campus was an amazing experience. Thank you to trust in Lecco staff. I can say that all people involved have enjoyed every part of the organisation! Preparation week was also amazing! Thanks Priska, thanks Santa Klaus! I hope to see you soon!" (Super Mario (Covarrubias), Italy)